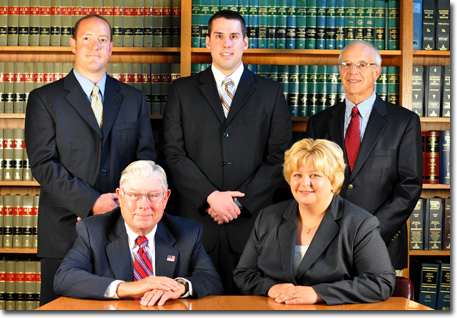 The attorneys of Matheny, Hahn, Denman & Nix, L.L.P. have been providing a broad range of legal services to clients in Huntington, Indiana since 1876. We are Huntington's oldest continuous-existing law firm.
As a full-service law firm, we advise and represent clients in the areas of Civil Litigation, Corporate Law, Criminal Defense, Elder Law, Family Law, Federal Income Tax, General Practice, Personal Injury, Probate, Real Estate, Social Security Disability, Trusts and Estates, and Workers Compensation. Our attorneys possess the highest academic credentials, maintain strong community ties, and are committed to the pursuit of excellence.
We encourage our attorneys be become actively involved in our local community. Our attorneys serve in leadership positions on boards, committees, associations, and programs meeting both the legal and non-legal needs of our community. We also provide financial support to community organizations through sponsorships, donations, and charitable gifts made by our individual attorneys.
We communicate effectively and demonstrate the strictest personal and professional ethics as well as the utmost concern for our clients. We utilize state-of-the-art technology and cost-effective methods to provide services in a timely, client-oriented manner and ethical, friendly, and professional environment. Our approach focuses on each client's background, needs, and we are committed to responding to telephone calls promptly, to reporting on cases regularly, and to minimizing and eliminating risk by informing clients of any significant changes in the law.
Our dedication to quality, understanding of the law, trust, and respect are the foundation of our long-standing relationships with our clients and the community.