Walla Walla, WA Heating and Cooling

Johnny's Heating & Cooling

Stop what you're doing and check this out . . .
If you're looking for fast, quality heating and cooling service with upfront pricing, then look no further – Johnny's Heating & Cooling will provide you with just that and more!
When you select our family owned and operated business, you're sure to receive nothing less than top-quality service at a great price. We'll leave your home or office building so clean you won't even know we were there. Call 509-527-0660 or email us today for your FREE estimate.
Attention business owners!

Don't lose out on any profits due to broken equipment.

Not only does Johnny's Heating & Cooling provide you with quality, reliable heating and cooling service, but we can also repair any type of commercial equipment. Call 509-527-0660 today for all your emergency needs – we're available 24/7.
Get to Know Johnny's Heating & Cooling:
Heating – Commercial and residential sales, service, installation, repair, and more

Air Conditioning – Sales, service, installation, repair, central air, and more

Commercial Services – Restaurant equipment, refrigeration, rack systems, cleaning equipment, and more

Espresso / Winery – Any type of espresso machine and glycol chillers
Don't wait until it's too late!
To keep your heating and cooling systems running at their peak performance, we offer preventative maintenance care and services for all your needs. This helps to ensure your home or business is comfortable and safe – not to mention, will help you save time and money in the long-run. We'll come in to your home or business twice a year for one low price!


Call Johnny's Heating & Cooling today at 509-527-0660 for your FREE estimate.7.

Johnny's Heating & Cooling
Justin Goff – Point of contact
Phone: 509-527-0660
Fax: 509-527-0332
johnnysheatingandcooling@gmail.com
Business Hours: Monday – Friday: 8:00am - 5:00pm
24-hour emergency service
We accept: Master Card, Visa, Discover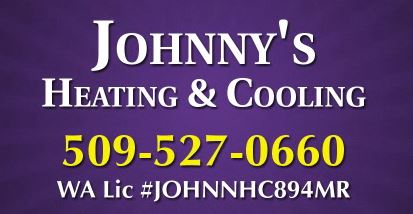 We are Licensed, Bonded, and Insured.