"Best Company To Work For 2013"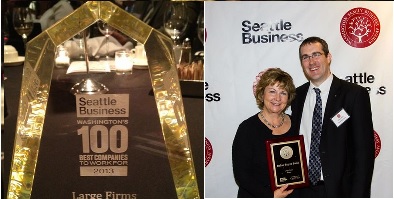 Baker Boyer Honored in 2013 '100 Best Companies to Work For'
by Seattle Business


Walla Walla – Baker Boyer Bank was honored for the eighth consecutive year as one of the 2013 "Best Companies to Work For" in the state by Seattle Business magazine, June 20th.

Seattle Business magazine honored its 100 Best Companies to Work For at an awards dinner June 20, 2013, at the Westin Seattle. The winners, hailing from 18 cities across the state of Washington, were chosen based on extensive surveys sent to nearly 10,000 employees. The top winners in each category were selected from among the top scorers by a panel of expert judges. Now in its 23rd year, this competition salutes Washington companies setting the standard for leadership, strong benefits, ideal work environment, innovative training, happiest employees and more.

"It is inspiring to me that Baker Boyer has been recognized for eight years in a row achieving this level of success in strong economic times as well as through some of the toughest I hope to see in my career. As I have said many times, when you have strong teamwork taking care of your co-workers and exceptional service taking care of your clients, you have a winning business strategy," said Megan Clubb, president & CEO of Baker Boyer Bank.

An excerpt from the Seattle Business magazine reads, "Some things happen every summer in Washington state: Fourth of July fireworks over Lake Union, the Seattle to Portland bicycle ride and Baker Boyer's annual appearance in Washington's 100 Best Companies to Work For listing. For the eighth consecutive year, the Walla Walla bank has earned a spot near the Top of our list thanks to its continued emphasis on employee health and wellness, leadership development and open communication. At 144 years of age, Baker Boyer has never looked better."

Baker Boyer has received various levels of the award for the last nine years, they include:
2013 – Second Place in the Large Company category
2012 – Second Place in the Large Company category
2011 – First Place in the Midsize Company category

In the large companies category, the winners were Slalom Consulting of Seattle (first), Baker Boyer Bank of Walla Walla (second) and Synapse Product Development of Seattle (third). In the midsize companies category, the winners were Torklift International of Sumner (first), MicroGREEN Polymers of Arlington (second) and Moz of Seattle (third). In the small companies category, the winners were Atlas Coffee Importers of Seattle (first), Artitudes Design of Issaquah (second) and Addioz Corporation of Bellevue (third). In the category of companies with headquarters outside Washington, the winners were DoubleDown Interactive of Seattle and Walsh Construction of Seattle (tied for first), and Cutler Investment Group of Seattle and Edward Jones of Seattle (tied for second). In the nonprofit category, the winners were Career Path Services of Spokane (first place, large nonprofits) and the Washington Technology Industry Association of Seattle (first place, small nonprofits).

KIRO/7 news anchor Steve Raible hosted the night's awards presentation before a crowd of more than 850 attendees from across the state and introduced the national champion University of Washington varsity eight rowing team and Coach Michael Callahan as a shining example of "an organization pulling together in the same direction."

Michael Romoser, associate publisher of Seattle Business magazine, said, "This was the largest attendance in the history of Best Companies to Work For. It reflects the continuing popularity of the program and a sincere appreciation of companies that are committed to outstanding communication and collaboration."

Awards were presented to the top companies by representatives from the event's sponsors, Gallagher Benefit Services, Comcast Business and HomeStreet Bank.