Site Grading and Topsoil Installation
Gardens by Design can provide the equipment to properly grade your site creating positive drainage away from your home or business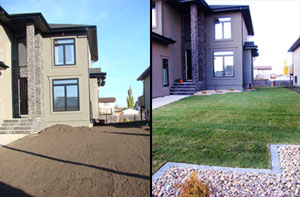 taking care of problems before they arise. We also provide topsoil and garden mix as well as various types of gravel.
Sod and Grass Seed Installation
Whether you want the `instant green` look of new sod or a low maintenance native grass seed, Gardens by Design can provide it. We use premium locally grown sod and quality grass seed mixes to suit your needs. With sod, we can often be in and out of your property in one day, creating a quick transformation.
Rock and Stone Work
For that unparalleled natural look, Gardens by Design offers custom rock and stone work. From natural looking boulder walls to dry stream beds to flagstone patios, we have the expertise to create the look you desire.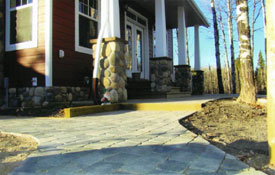 Paving Stone
Patios, walkways, and driveways... with the large variety of paving stone products available, we are sure to find one to suit your needs. Paving stone provides the perfect combination of beauty and function. When properly installed, paving stone is superior to concrete as there is no cracking, and repairs are quick and easy, if ever required..
Retaining Walls
Gardens by Design installs retaining walls constructed of precast concrete blocks, pressure-treated timbers and rock or boulders. Retaining walls provide the function of holding back or retaining a slope or berm of earth. It is essential that retaining walls be properly constructed to provide the desired function. With our qualified staff we use the proper techniques during construction to ensure your wall stands up to the test of time, weather, and load.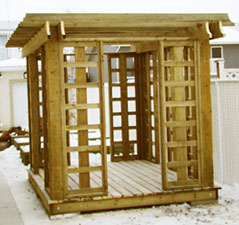 Custom Woodwork
Let Gardens by Design create the perfect custom wooden structure for your landscape. From pergolas to planters, decks, fences and custom built lattice, we can do it all. We use only the best lumber available including pressure treated, cedar, or composite materials to create the look you desire. As a bonus, we can create most custom woodwork off-site during the winter months (with some exceptions) and have them ready to install in your yard just in time for you to enjoy the warmer weather of Spring.
Planting Design and Installation
The installation of plants in the landscape is one of the most important parts in creating a beautiful garden. As horticulturists, we know our plants. Installing plants to allow for proper growth and required sunlight or shade, as well as for year round interest, is what we strive to do with every landscape. Whether you require perennials to add colour to a garden space or a complete array of shrubs and trees, we can supply and install the proper plants for your landscape.
Irrigation Systems
Gardens by Design can install your automated irrigation system to provide the right amount of water at the right time. The water requirements for turf and landscape plants differs a great deal, so why waste water by irrigating everything the same amount. We can assess your irrigation requirements and install the right system to allow for excellent turf and plant growth and little waste.
Landscape Makeover
Do you have an overgrown property with no form or function? You may require a simple landscape 'makeover' to bring your yard back to life. With our expertise and professional staff, Gardens by Design can revive your tired landscape with a quick clean-up, some new plant material or the addition of a beautiful and functional new patio. Give us a call. We will take care of the rest.
XeriScaping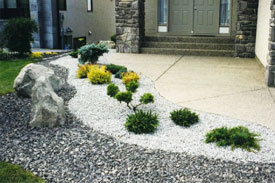 With our horticultural know-how and some creative design, Gardens by Design can create a low maintenance, water efficient landscape that you can enjoy without as much maintenance as your typical lawn. We will provide you with the proper soil mix to allow for maximum root growth of the native plants that will be installed, either bark mulch or rock/gravel mulch and the know how to take care of this low maintenance landscape. Xeriscaping provides you with not only a unique and beautiful new look for your landscape, but also gives you more time to enjoy your private oasis without all the maintenance.
Landscape Maintenance
Once your landscape project is complete, Gardens by Design can also provide you with ongoing maintenance services to keep your landscape looking beautiful all year round. Residential or commercial, we can take care of your maintenance needs. Call for an estimate. Our list of services includes:
Lawn maintenance services

Spring and Fall Clean-ups

Planting bed maintenance

Fertilizer applications

Core Aeration